Halloween project – "Coloring the darkness"
21.10.2016
Well, we did it again! Almost the same team, with the same mood and the same humor, my second Halloween project – "Coloring the darkness."
I want to thank all the people who supported me and took part in my project!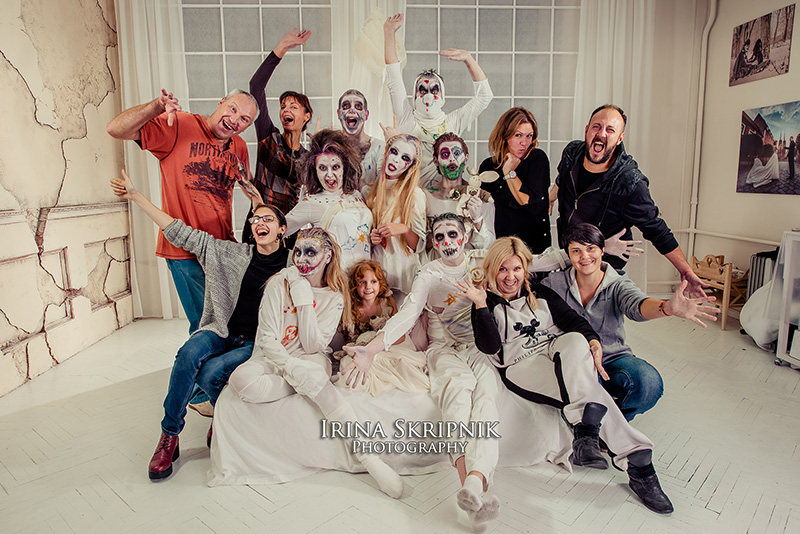 First of all I would like to thank my actors: Peter Vitulski, Natalia Berezovskaya, Irina Dunai, Yuri Chistov, Ksenia Solodchuk, Raphael Sarkisyan, Aleksander Danai and of course our main little star model Lizonka and her mother Olga Kolbasuk. Friends, thank you for your patience, your emotions, work and dedication!
The best make-up artists Svetlana Sharapova, Svetlana Rachkova and Ksenia Magomedova! Girls, thank you for your professionalism, speed and a unique view of the world. You are great masters!
Many thanks to Oleg and Oksana Maksimenko for filming backstage of our madness. You worked for 12 hours without rest! With your help we have 10 hours of video footage for post-production.
In the end, I would like to thank my dear and most beloved husband for help in everything for this project! Your ideas, support and participation in all my work is priceless!
I am sure we will do it again next year!
Watch our online translations!
P.S. I will present full series of photos before Halloween, also you will see my free webinar dedicated to this shooting.
Sincerely, Irina Skripnik.